Ultimate 100 Football Camp Registration
| Date | Region | Registration Link | Location | State | Classes | Positions |
| --- | --- | --- | --- | --- | --- | --- |
| 6/18/2017 | Southeast Class of 2020/2021/2022 | | Campbell High School | GA | 2020/2021/2022 | QB, WR, TE, RB, OL, DL, LB, DB |
| 6/18/2017 | Southeast Class of 2018/2918 | | Campbell High School | GA | 2018/2019 | QB, WR, TE, RB, OL, DL, LB, DB |
| 6/25/2017 | Deep South/Flroida | | Showalter Field,Winter Park | FL | 2018/2019/2020/2021/2022 | |
| 6/25/2017 | Southwest | | Colleyville High School | TX | 2018/2019/2020/2021/2022 | |
| 7/16/2017 **Move to this date from 6/3/2017 | East | | Parsippany High School | NJ | 2018/2019/2020/2021/2022 | QB, WR, TE, RB, OL, DL, LB, DB |
THE ULTIMATE 100 CAMP

Every Athlete Now This Year Will Get A Personal Evaluation At the End of The Camp
NUC'S LONGEST RUNNING ELITE SUMMER CAMP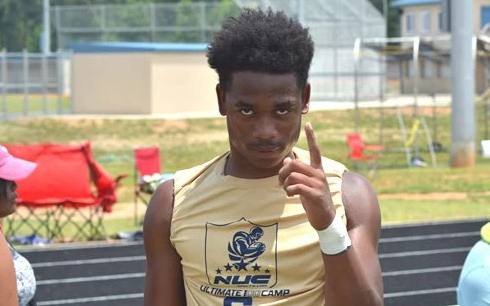 THIS CAMP BRINGS TOGETHER THE BEST ATHLETES FROM EACH OF THE CAMPS IN THE EAST COAST.
EACH GRADE IS EVALUATED SEPARATELY, EVERY ATHLETE WILL TAKE HOME AN EVALUATION ON THEIR PERFORMANCE FROM THEIR POSITION COACH.
The athletes are broken out to teams by team colors. Then they are taught the tests and then testing in the 40, shuttle, vert, and broad jump. They then do a full coaching camp and evaluation in the agility and postional drills. It is followed by 2v2's and then there is lunch break on own. At 2pm the athletes break into their teams for the lineman 1v1's and team 7v7 tournament. It tests leadership, communication, team work and of course we are evaluating the athletes.
Event Schedule: 9AM Start
Checkin/Headshot
Profile Completion
Warmup
PHASE 1
Separated into teams
40 yard dash teach and test
Shuttle teach and test
Vertical jump and broad jump teach and test
PHASE 2

Agility & Positional Evaluation and Training
2v2's/1v1's-Skill/Lineman Camp
LUNCH
PHASE 3
7v7 tourney-Skill /Lineman 1v1's
AWARDS/SPEAKERS

Athletes will be evaluated and coached in the following areas (in addition Leadership & Communication):
QB's-Footwork, Release, Accuracy, Athleticism
WR's- Release off Ball, Route Running, Catching Skills, Playmaking, Athleticism, Speed
TE's-Release off Ball, Route Running, Catching Skills, Playmaking, Athleticism, Blocking
RB's-Footwork, Change of Direction, Catching Skills, Athleticism
OL-Power, Footwork, Quickness, Technique, Flexibility, Physicality, Athleticism
DL-Quickness, Power, Hand Use, Technique, Physicality, Athleticism
LB's- Change of Direction, Power, Athleticism, Coverage, Footwork, Playmaking
DB's- Redirection, Athleticism, Coverage, Footwork, Quickness, Playmaking, Speed
Ultimate 100 Football Camp Registration
| Date | Region | Registration Link | Location | State | Classes | Positions |
| --- | --- | --- | --- | --- | --- | --- |
| 6/18/2017 | Southeast Class of 2020/2021/2022 | | Campbell High School | GA | 2020/2021/2022 | QB, WR, TE, RB, OL, DL, LB, DB |
| 6/18/2017 | Southeast Class of 2018/2918 | | Campbell High School | GA | 2018/2019 | QB, WR, TE, RB, OL, DL, LB, DB |
| 6/25/2017 | Deep South/Flroida | | Showalter Field,Winter Park | FL | 2018/2019/2020/2021/2022 | |
| 6/25/2017 | Southwest | | Colleyville High School | TX | 2018/2019/2020/2021/2022 | |
| 7/16/2017 **Move to this date from 6/3/2017 | East | | Parsippany High School | NJ | 2018/2019/2020/2021/2022 | QB, WR, TE, RB, OL, DL, LB, DB |