Top 10 Camps Where College Football Recruits Get Noticed
6 min read
Top 10 Camps Where College Football Recruits Get Noticed
EDWIN WEATHERSBY MARCH 26, 2014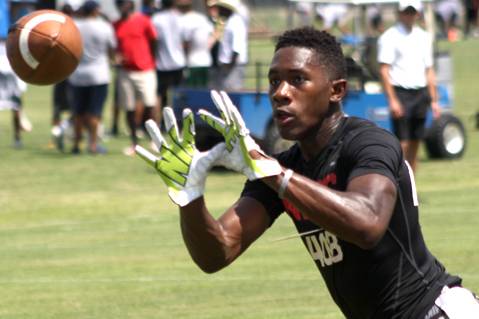 Credit: 247Sports
Aside from sending out a highlight tape, the best way for a high school football player to get noticed is to attend a camp or combine. There are many to choose from, but players have to be smart and keen on which ones are the best at helping them get noticed.
Quarterbacks would be wise to show their skills at an Elite 11 regional camp, while speedsters are advised to blaze the 40-yard dash at a SPARQ combine.
Plus, the old-fashioned one-day college camps are still popular today.
NFL Prep 100 Series
1 OF 10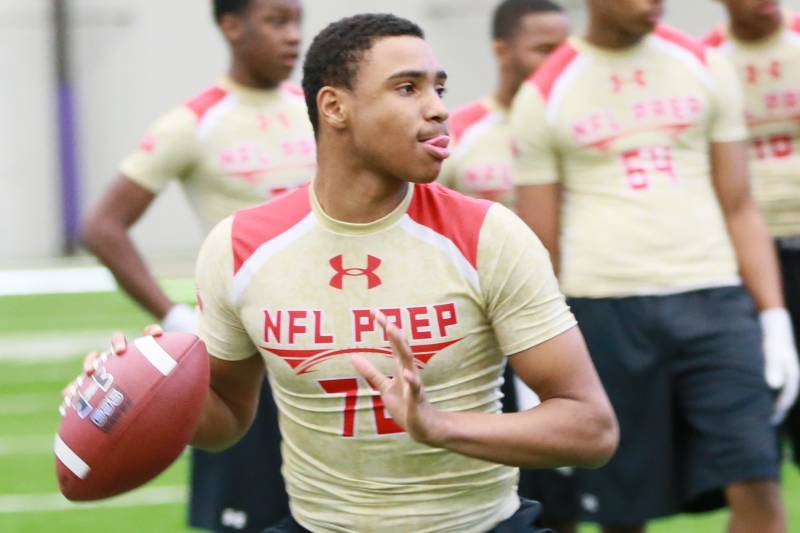 Credit: NFL Prep 100 Series
Yes, the NFL has gotten into the camp business. The NFL Prep 100 Series only lasts a day, but it takes place at several NFL teams' facilities and touches on an array of things to help players.
Aside from learning more about safety and leadership, players who attend this camp receive good coaching on the field. These events are growing in popularity, and a good showing here can open the door for an unknown prospect.
VTO Sports Combines
2 OF 10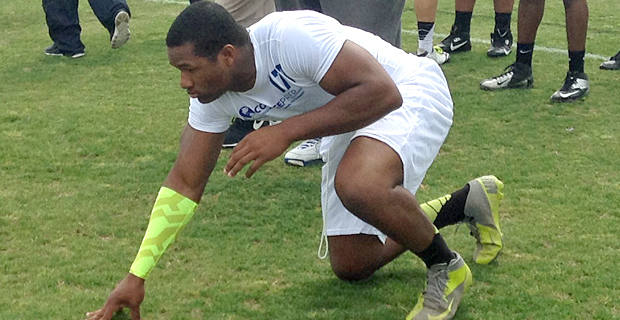 Credit: 247Sports
Although it's not free to attend a VTO Sports Combine, the $85 investment it requires could pay off if a player performs well. The combines are held at various locations, so players need to check the website and pick the closest one.
Prospects arrive, get a compression shirt and are given a platform to prove they have college-level speed and athleticism. Testing consists of a 40-yard dash, bench press, vertical jump and L-Drill, among others.
Past attendees include current NFL prospect Jadeveon Clowney, incoming Alabama freshman defensive end Da'Shawn Hand and incoming LSU freshman running back Leonard Fournette, per VTO Sports.
NUC Events
3 OF 10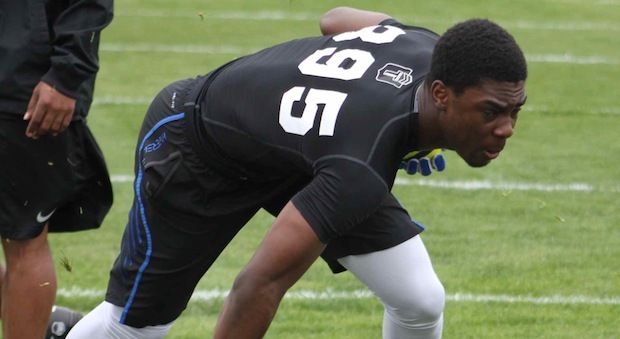 Credit: 247Sports
National Underclassmen Combines are emerging as a serious player in the camps and combines business. Recruiting analysts are starting to pay more attention to these combines, which means more recruits are being noticed at NUC events.
With the support of 247Sports, NUC puts on combines, showcases and 7-on-7 events. Even recruits who reside in Alaska or New Mexico can attend a NUC event, as the tour comes to those states.
According to 247Sports:
Some Famous Alums include Johnny Manziel, Marcus Mariota, Landon Collins, Case McCoy, Kenny Vaccaro, Tajh Boyd, Joe Haden, Joe Looney, Eric Ebron, Casey Paschall, Tyrod Taylor, Robert Woods, Aaron Murray, Marcus Lattimore and many more. Over 1300 signed D-1 in 2013, Over 30 NUC alums drafted in 2013.
U.S. Army National Combine
4 OF 10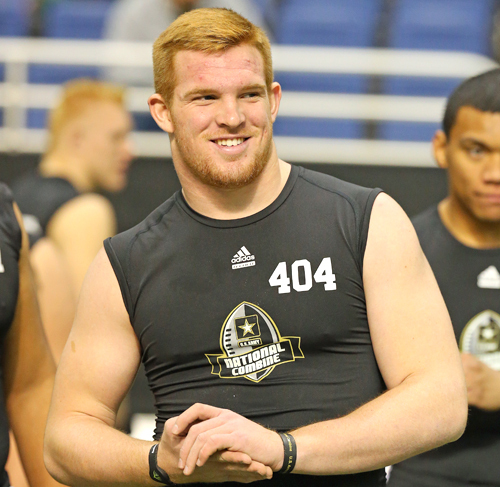 Credit: 247Sports
Most camps and combines take place in the summer, but the U.S. Army Combine is held around the same time as its famous All-American Bowl in January.
However, this is the big stage. Any underclassmen who want to get noticed early in their recruiting cycle need to go to San Antonio and light it up. It's a traditional combine, as it has all of the standard athletic testing drills.
However, it also has positional 1-on-1 drills. That means recruits have a chance to show specifically what they can do on the football field.
B2G Battlefield
5 OF 10
Credit: 247Sports
This event takes place in Los Angeles, but it has a linemen skills challenge, which is why it's a great camp to get noticed.
Offensive and defensive linemen are not involved in 7-on-7 events, so it can be tough for them to find offseason events to participate in. Well, B2Ghas them covered, as it not only has a 7-on-7 event, but also a linemen challenge for the big hogs to get after it.
While it takes place in January, an unknown defensive tackle or guard can have a coming-out party at this event.
Rivals Camp Series
6 OF 10

Credit: 247Sports
Rivals.com is one of the premier recruiting websites in the industry. The powerful website has teamed up with Under Armour to present the "Rivals Camp Series."
The camps are for all players to attend and test their abilities against one another. The tour started in New Orleans in February and will conclude in Chicago in May. Recruits can check out the schedule to see when the series will be at a location nearest to them.
A good showing at one of the camps in the Rivals Series can help a recruit get invited to the Rivals 5-star Challenge in June.
Rivals.com says:
The Rivals Camp Series Presented by Under Armour is a new series of regional camps for elite athletes. The event is geared toward current juniors but sophomores and freshmen are eligible. Top performers could qualify for a spot in the Rivals100 Five-Star Challenge and top underclassmen could qualify for a spot in the Rivals Underclassmen Challenge, both annual events and considered the elite events in the football recruiting world.
7-on-7 Teams
7 OF 10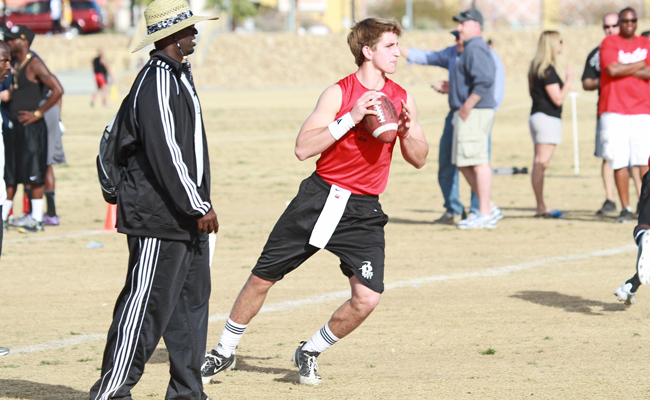 Credit: 247Sports
College basketball recruiting has AAU basketball, and now college football recruiting has the 7-on-7 circuit.
Quarterbacks, receivers, running backs, tight ends, linebackers and defensive backs get to play year-round in these settings. Getting on a spring and summer 7-on-7 team is critical for skill-position players, as the teams travel to various tournaments that receive a ton of attention in the recruiting industry.
Among the top tournaments for 7-on-7 football is the Las Vegas tournament put on by Pylon Football.
Nike SPARQ Combines
8 OF 10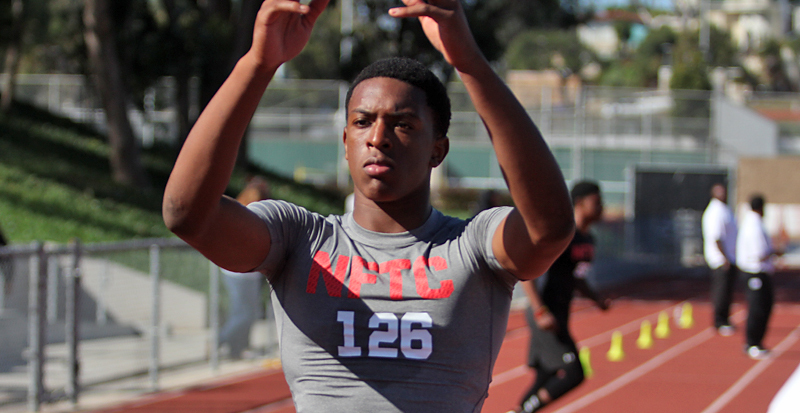 Credit: 247Sports
Student Sports has been putting on excellent football events for recruits for what seems like forever. Aside from the outstanding Nike Football Training Camps, the company has the Nike SPARQ Combines.
The combines are strictly for testing, as SPARQ provides exceptional and safe equipment at each event. Times and results from these combines are probably the most accurate in the business.
The combine tour started in February in New York/New Jersey, with the conclusion coming later this spring in the Pacific Northwest.
Student Sports says:
Nike Football SPARQ Combines are free of charge and open to Class of 2015 graduates and top underclassmen high school football players looking to showcase their ability as well as top 7th and 8th grade football athletes. Top performers will be eligible for selection to later Nike Football Training Camps as well as even possibly The Opening which takes place this summer at the Nike World Headquarters.
Elite 11 Regional Quarterback Camps
9 OF 10

Credit: 247Sports
The Elite 11 Quarterback Finals are an invitation-only event that brings the nation's best high school quarterback prospects together all in one setting.
To earn an invite, a prep passer needs to workout at one of the Elite 11 regional camps. A trio of camps have already taken place in Los Angeles, Atlanta and Orlando, while cities like Chicago, Dallas and San Francisco will host a big rush of aspiring college quarterbacks this spring.
If you're a quarterback looking to get noticed, this is it.
Various One-Day College Camps
10 OF 10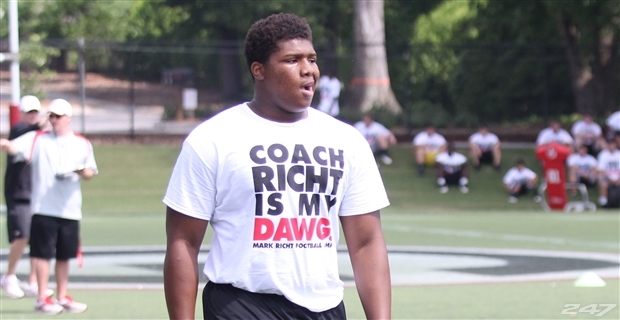 Credit: 247Sports
Perhaps the best way for a recruit to get noticed at a camp still is the classic college camp. Every college head coach and his staff holds a one-day camp and/or another camp that lasts several days, which is really a recruiting tool.
This allows coaches to get a personal look at a recruit on their campus while even coaching him up a bit. Student Sports has a great page showing all of the 2014 dates for many upcoming college camps.
USC, Florida, Florida State, Georgia and Ohio State are just a few schools to name who have competitive one-day camps. What better way to get noticed by college coaches than performing in their own backyard?
All recruiting ratings and rankings are from 247Sports.
Edwin Weathersby is the College Football Recruiting Analyst for Bleacher Report. He has worked in scouting/player personnel departments for three professional football teams, including the New York Giants and Cleveland Browns.
About Author