RECRUITING PRO DAVID SCHUMAN KNOWS FOOTBALL – & HE KNOWS THE LOVE OF GOD by Sam Pierce
5 min read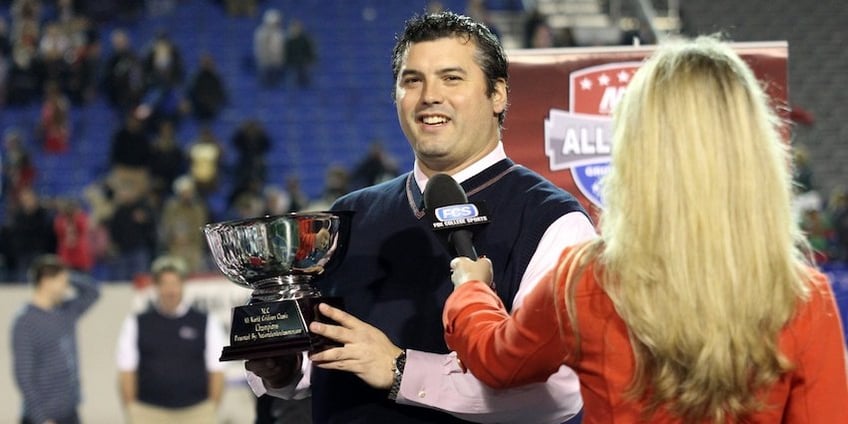 David Schuman knows football. His company, Schuman Enterprises, operates the National Underclassmen Combine (NUC Sports) football training and recruitment program and annual training/assessment camps for high school students looking to earn a college scholarship and team slot.
Schuman, who was a star linebacker at University of Connecticut and serves as chief coach for NUCH's high school football camps, has operated the growing training and recruiting network since 2005. It's an enormous, daunting operation, and hundreds of student athletes' futures rest largely on the results of NUC's leadership, training, and relationships with college coaches.
But Coach Schuman says when it gets hectic or challenging to meet all the demands of NUC's dozens of camps around the country and the hundreds of student-athletes NUC works with, he leans on his "mantra" Scripture: "I can do all things through Christ who strengthens me." (Philippians 4:13)
"It's one of those overlaying things that guides me in everything I do each day," he told Kerusso's blog team recently. "Trying to help others is a big part of it." #christianathletes #teamjesus
NUC's goal is to get athletes exposure through the combine events, testing, agility, position skills, and requirements as early as possible. NUC Sports also hosts 7×7 tournaments for high school players and youth tournaments for younger ones, and provides recruiting analysts for coaches and schools in addition to NFL analysis.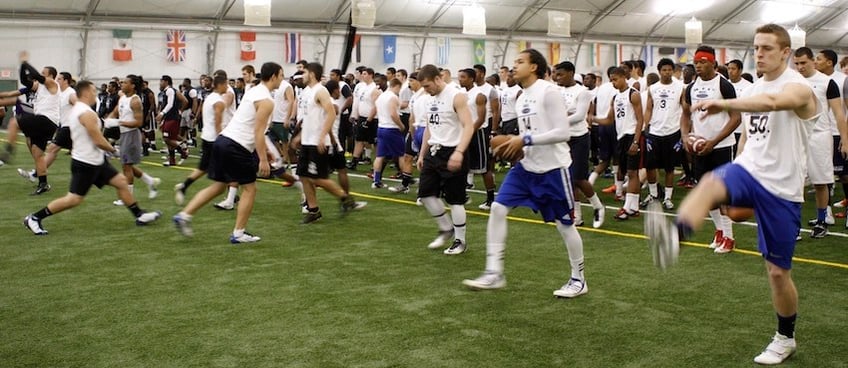 "I wanted to give athletes the opportunity and to give them some exposure," Schuman explained about why he initially launched NUC Sports. "We really expanded it from there after we had some success in the beginning.
"Our primary goal is to give athletes an opportunity to compete and to be coached by great coaches," he added, "to take their results and get it in the hands of college coaches."
University programs such as Alabama, Rutgers, Ohio State, USC, Florida State, and Oregon have had several key players who were first recognized as top prospects at NUC camps. Additionally, NUC's All American Game has included two eventual Heisman Trophy recipients.
"I think a lot of times we are a launching pad for people, for athletes," Schuman says. "There is no doubt about it. There are over 300 NFL players who have gone through our program; and each year, there are several thousand athletes who receive scholarships to play in college."
Since NUC's inception in 2005, more than 10,000 alumnae of the camps and training programs have signed to play with Division I programs.
"We are now at 100 locations around the country, and we have teams of coaches who help run the camps," Schuman explains. "There are [influential leaders in college athletics] who we stay in touch with and maintain relationships with. They have definitely found this to be a launching pad for their future success."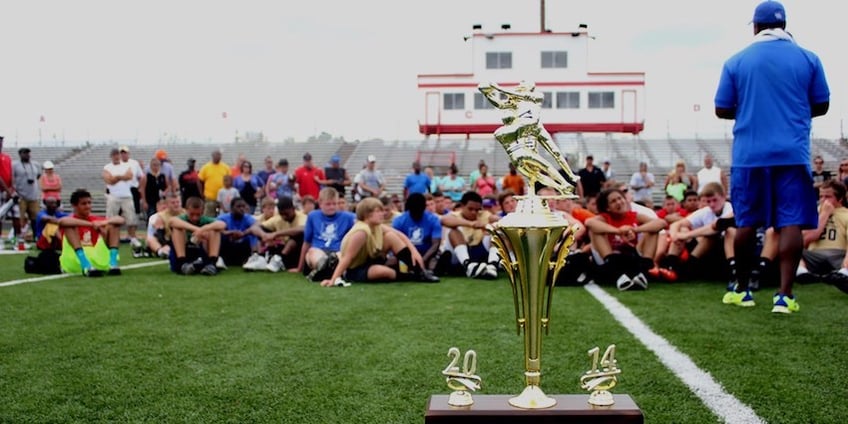 NUC's Coach Schuman discusses his Christian faith
So, for how long has the coach to so many students been following his own heavenly "head coach" – God?  "Since I was born," he replied, "I have believed in the values taught by Jesus Christ and all the things that go along with being a good Christian. To me that includes doing right by others my whole life."
Another favorite verse that Schuman frequently hears running through his head: John 3:16, "For God so loved the world, that he gave his only begotten Son, that whoever believeth in him should not perish, but have everlasting life."
"I don't have a favorite scripture per se, but those two verses are the two I really subscribe to most," he added.
While his company's camps are focused on athletics, Schuman noted that his faith and his work do intertwine. But he emphasized that the camps are open to all athletes, regardless of their beliefs or religious affiliations.
"I am a Christian, so I try to bring some of my core beliefs into that, but anyone can attend," he said. He added that he hopes that some of the lessons taught by his coaches succeed in pointing athletes in the right direction.
"I hope the participating student-athletes have become enlightened because of some things we have talked about," Schuman says. "Being saved means more than just coming to our camps and believing in what we do. We are just trying to help them get on the path to continue to see that out."
Schuman said being a Christian and working in an athletics environment has presented some challenges. He says it is important to stick with your values and handle things accordingly.
"Most of the people that come to our camps are fantastic," he said. "But – just like anything else – there are always people who don't align with the values that we have. Some have an expectation of manipulating something for their own benefit, and those are things that you just have to deal with, as you would in life and in Christianity."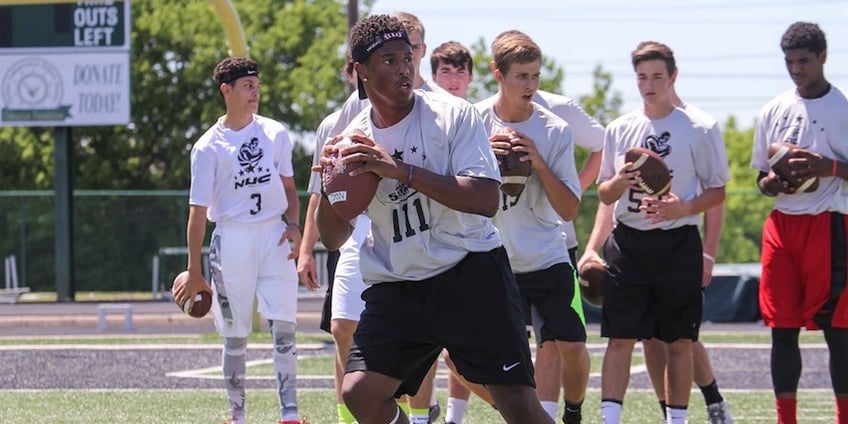 One of his favorite things about his job: When student-athletes and their parents personally thank him and his coaches for the impact they had on their lives.
"When people come up to me after the event and say the event either opened their eyes or changed their lives or helped them in a positive way – those moments are the most important," Schuman explained.
Schuman has been a member of Hawthorne Gospel Church in Hawthorne, New Jersey, since 2008.
"I am not involved in a leadership way because my faith is private to me," he noted. "I have a little bit of a public life and I am able to reach the families that I see. But at church, I think of it as time to really be one-on-one with the Lord and spend time with him."
Schuman is engaged to fiancé Nicole, and he has a 2-year-old son, Troy. "My goal is to be a leader in the household and to do anything I can to help my family to the best of my ability – to bring the principles of God into everything we do."
He says his relationship with his father has helped shaped his own fatherhood. "My father was a great leader in the family and put the family first to the best of his ability," Schuman noted. "He was just fantastic with his children and always trying to make us happy."
The coach says his favorite part of being a dad is when his son runs to the door to welcome him home. "Seeing his smiling face when I come home at night is the best," he said. "He hears me come in and meets me right there at the gate, and calls for dad. Just experiencing that is unbelievable."
On his Twitter page (@nucfootball), Schuman says that one of his favorite poems is by Charles Swindoll:
The longer I live,
the more I realize the impact on life.
Attitude to me
is more important than facts.
He echoes those words when giving advice to his own student-athletes.
"Believe in yourself and believe in the Lord," the coach says. "He will help guide you to find your path and continue to reinforce that every single day. If you do that, you will always make the right decision, and you will always give everything you have to be successful, and you will always do it the right way."
• • •
Do you know a sports hero whose faith on or off the field inspires you? Nominate someone to be featured on the Kerusso blog. Email your suggestion to blog@kerusso.com.
About Author