COACH SCHUMAN'S  BUCS FOOTBALL CAMP
This camp will be available for athletes from the age of 6 -18. The concept is to get every athletes from the surrounding areas of/and including Little Silver, Red Bank, and Shrewsbury to come together for an amazing camp where they will be broken into two groups to develop their football skills. These skills will be critical as they go into football camp and is great for all ages. The athletes will be broken out into Youth 6-14 (non high school) and High School 14-18.
Each camper will get a free tshirt and each day we will give away awesome prizes and awards!!!
We will bring together coaches from all over the community, ex-NFL and College players. We will focus on having them improve in all their football skills and increase community pride, learning and competion.
Coach Schuman will bring his staff and other experts to help coach the athletes. The Camp will be at Red Bank High School to give all athletes the opportunity to learn and have plenty of great facility to work in.
High School Players will be in uppers only….
Youth Players from 6 to 14 ages are not in pads, they just need to bring shorts and a tshirt.
Each day camp starts at 8am and goes till 1pm each day
Each kid gets Tshirt for camp.
Skills we will cover:
Teaching Blocking
Teaching Proper Tackling Form
Agility Skills
Position Skill Work
Catching, Throwing and Running the Ball
Scheme Concepts 
Games:
Ultimate Football (athletes love this game)
Relay Races
Team Games each athletes will be part of a team that they can win prizes
Individual Recognition and awards for Hardest Worker, Go to Player, Top Leader and more.
If you cannot attend the camp after you register just contact us within 2 weeks of the start of the camp for a full refund. Within 2 weeks of camp there are no refunds.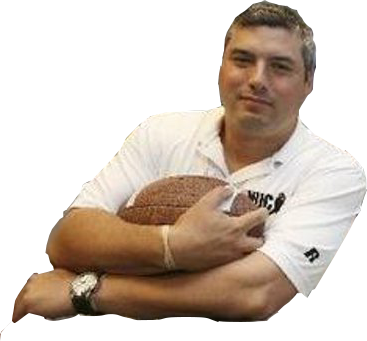 About Coach Schuman
Coach Schuman is the new Red Bank Regional Head Coach. Over the past 17 years as coach he has been to 3 state championships winning one. He coached over 75 college players as a coach and coached NFL players Steve Beauharnais and Steve Maneri when they were in High School. He played college football on scholarship at the Division 1 level at University of Connecticut for Skip Holtz where he was a Starting Linebacker, 3 time letterman,  and Academic All Conference. He played High School Football at Saddle Brook High School, where he was named 1st Team All American by Bigger Faster Stronger Magazine. He is the founder of NUC Sports and has worked with over 500 current NFL players at his programs and helped over 30,000 athletes in his career go onto college to play football. He has worked with 4 Heisman Trophy winners in Derrick Henry, Kyler Murray, Marcus Mariota, and Johnny Manziel.